This is the third Nixplay WiFi photo frame that I have reviewed. I believe there is a good reason why the company is the global market leader for digital photo frames: They just have the best soft- and hardware in the mid-size frame segment that they are in.
In this review, I will take a closer look at the 9.7 inches Nixplay Smart Photo Frame, which is the 2K model of the "Smart" product line. This means that you can expect the screen to be tack-sharp.
My tests are unbi­ased. There are no finan­cial or mate­r­i­al dona­tions to be dis­closed. Nixplay has supplied me with a review unit for this test.
What people expect from digital photo frames
With the Coronavirus in 2020, "keeping in touch" became a predominantly virtual matter for some time. Video conference tools gained in popularity because it gave us all a much better feeling of working together than just listening to group phone calls. And yet, easy to set up video-conference software has been around for over twenty years. But only now, they became fully accepted.
I'd like to think that the same is true for digital picture frames. They have been around for ages, but the quality of the hardware and the user-friendliness of the software left a lot to be desired. But recently, they seem to pop up everywhere.
Although different customer segments will have different requirements, the average consumer first and foremost expects ease of use. And since many photo frames are given as a present to parents and grandparents to keep in touch with the family, people expect a way to service them remotely.
This is where many sins have been committed. The software was an afterthought in many companies when it should be the first step in the design.
What Nixplay consistently does right
So it was no surprise that many companies have appeared on this market and quickly left again. The mid-size segment has been especially crowded with brands slapping their logo on some white label "China" frames with no genuine passion for photo frames.
Don't get me wrong. The best electronics manufacturers are in China and other Asian countries. But if the objective is to bring down costs to the minimum, the quality will suffer.
I currently see only one brand that is starting to become a household name in mid-range wifi photo frames and that is Nixplay.
Personally, I am not even much interested in a digital picture frame that is smaller than 24 inches, and I like to build them myself. But when friends & family ask me which brand to buy in the mid-size segment, I recommend Nixplay.
There are two reasons for my judgement.
One the one hand, they overall have the best software for digital picture frames. It is (relatively) easy to use and has all the bells and whistles that you need. Especially, it can remotely control other frames, i.e., to add pictures and change the settings. This works as long as the other frame is connected to WiFi.
On the other hand, the hardware is solid. Nixplay has come up with a very clever patented solution for the cable problem of picture frames and turned it into a stand. And no USB card can break or is hard to insert. And third, the design is available in several styles, so everyone should find something compatible with their style.
There are two things that you have to be comfortable with: You need a WiFi connection, and your photos are stored in the Cloud. If you don't like either, you have to look at non-wifi frame models. Nixplay also has those, but they are not available on their homepage but on Amazon.
The 9.7 inches Nixplay 2K Smart Photo Frame
I was recently given a review unit of the 9.7 inches Nixplay Smart Photo Frame which is the 2K model of the "Smart" product line.
2K means that the screen has a resolution of 2048 x 1536 pixels , the "2K" always refers to the long side of the display.
This frame is part of the Nixplay Smart Photo Frame series that come in sizes of 9.7, 10.1, 13.3, and 15.6 inches.
Only the 9.7 inches version has the ultra-high-resolution 2K display. I guess this is why it's also just as expensive as the 15.6 inches model which only has a display resolution of 1920 x 1080px.
However, the screen size is only one difference. Just as important is the aspect ratio of these models.
The 2K model has a ratio of 4:3, which is typically what a photo that was taken with a mobile phone has. Since most of today's photos are taken with a mobile, it makes a lot of sense to have the same screen proportions as otherwise too much of your image would be cropped in full-screen mode.
The 10.1 frame has a 16:10 aspect ratio, which is about what a DSLR (3:2) is at. The 13.3. and the 15.6 models both come with 16:9, which is great for videos but not so much for photos. I could talk about hours about this subject but let me just say, there are many reasons why I prefer 16:10 or 4:3 displays.
A tack-sharp display
The funny thing with high-resolution displays is that you don't notice the difference immediately. But the more you look at a high-resolution (Apple calls them "Retina") display, the more details you discover. And when you then go back to a low-resolution screen, you're ready to go to the optician because you think there is something wrong with your eyes.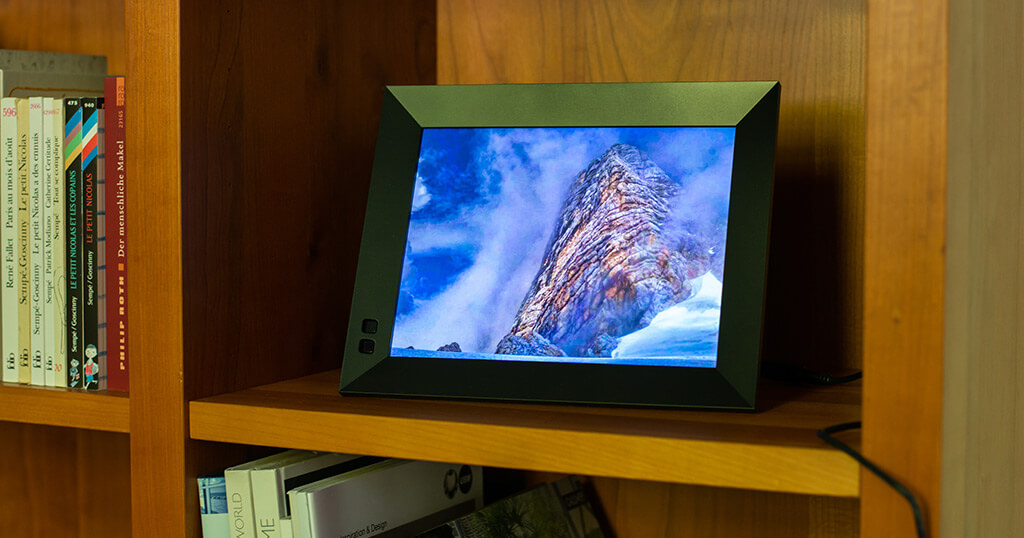 So, a word of warning here. Once you get used to a high-resolution display, there is no way back. Just try to take an Apple iMac 5K away from someone and give him a 1920×1080 monitor (which used to be considered HD!). Good luck!
The screen of the 2K is super sharp and you will discover many details on your photos. It is glossy but it is not prone to showing reflections.
This frame is currently the best in its class in terms of display quality. And the fact that it has an aspect ratio of 4:3 makes it ideal for family & friends photos taken with a mobile phone.
If you are a photographer and you need a small WiFi photo frame, you may be better served with the 16:10 ratio found in the slightly larger 10.1 model. But then again, in your profession, you would probably want a 40 inches 4K frame anyway.
The 2K screen comes at a premium of about $100. Is it worth it? Maybe not because the other Nixplay models also have great displays but, personally, I can't have enough pixels!
The Nixplay software is still the industry benchmark
I have talked a lot about the Nixplay software and have even written two articles to get you started with a computer or a mobile device.
The good thing is that Nixplay hasn't changed much in that software since I first published the articles in 2019. And why should they? It is very user-friendly and offers plenty of options the way it is.
What is especially well thought through is the initial setup process after you first unbox the frame. The only thing you need to have nearby is the password of your WiFi network. Once that is entered via the remote control, you can continue on your mobile phone.
The Nixplay software lets you manage all your Nixplay frames with one account and app. This means that you can share your playlists on all connected frames, regardless of where they are in the world. The only thing that matters is that they are connected to a WiFi signal. They do work without WiFi as the images are downloaded to the frame, but you need the signal for photo updates.
As far as the management of your photos goes, you can either access your phone's photo app, the Nixplay Cloud Albums, or connect it to Google Photos.
The software still offers the same selection of beautiful image transitions and has many features for customisation.
For a full overview oft the software, please check my setup tutorial for the Nixplay Seed 10.1 frame.
If I could make a wish for one future software feature, it would be the ability to see the image that is currently being played on a remote frame. Sometimes you may want to share a particular photo with your family and with a feature like this, you could all be sure that you are looking at the same thing.
Conclusion
The Nixplay 2K Nixplay Smart Photo Frame has the potential to spoil you for all other photo frames. The super sharp display is something that you take for granted quickly.
The proven quality of Nixplay's hard- and software remains the key recipe for the company's market success. But before you buy, check which display aspect ratio is the right one for your needs. I would argue that this is even more important than pixel density.
The frame is available in metal and black finish.
(Pho­tos: Nixplay, Wolfgang Männel)
Was this post helpful?
Let us know if you liked the post. That's the only way we can improve.