After recently reviewing the Aura Mason frame, I was curious to have a look at another Aura model. So in this article, I will have a closer look at the Aura Carver frame.
My tests are unbi­ased. There are no finan­cial or mate­r­i­al dona­tions to be dis­closed. Aura has supplied me with a review unit for this test.
Aura
Aura's focus is on building very high-quality frames combined with smart software. They currently (November 2020) offer four different models, the Aura Mason, Carver, Sawyer, and Smith.
For this review, I received the Aura Carver frame, but the software is the same across all models.
Aura is currently only shipping in the US. They either sell direct or through selected retailers, like Amazon.
However, the Carver box contained a user manual in English, Spanish, French, and German, so it's probably only a matter of time until the geographic distribution of Aura frames is being extended.
First impression
The Aura Carver frame is beautifully designed and has a luxurious look and feel. It's actually quite heavy which is a good thing because it doesn't need a stand. Instead, the frame design is balanced and quite deep so that you don't need one.
The frame came in a great white tone (not all whites are the same!) which made me think that this frame would be perfect for wedding photos. After all, getting a professional photographer for your wedding doesn't come cheap, so you want to enjoy those photos as much as you can!
It comes in a light blue box that looks very classy. Quite a difference from many other digital picture frames that I looked at.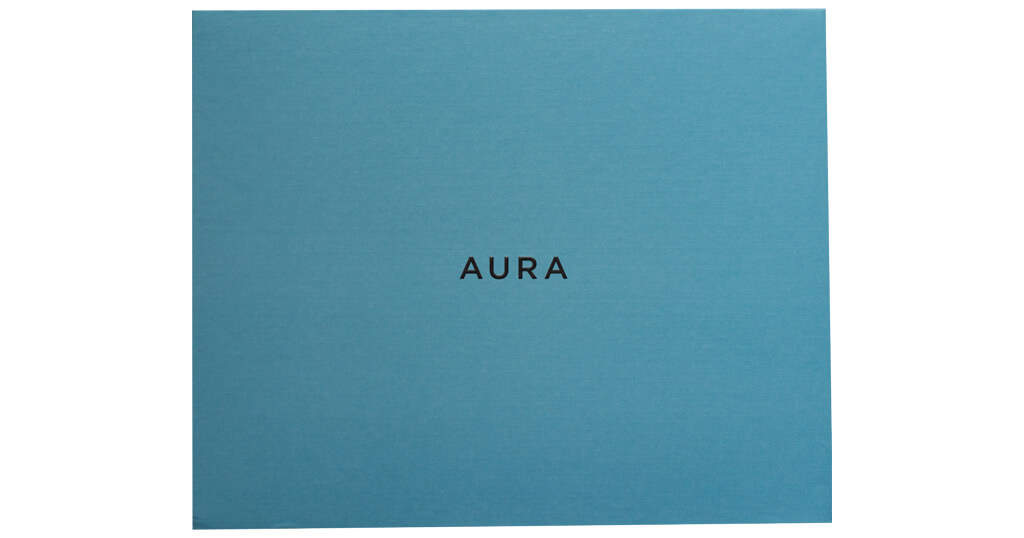 Setting up the frame for the first time and the Gift Setup function
The packaging has a clever feature. On the back of the box, you can remove a cover paper that hides a QR code called "Gift Setup." This means that you can prepare the frame and load it with your own images before you give it as a present. This is an amazing feature that I have only seen with Aura frames.
With Gift Setup, you can make the initial setup very easy and give your digital picture frame already containing your own great images – without opening the sealed box!
To get started, download the Aura app. You can either setup a digital frame for yourself or as a gift. If you connect via Bluetooth, your WiFI password will be transferred automatically which is very convenient.
There is only one little plug for the power supply in the back of the frame, no unnecessary USB or other connections. The rather elegant fabric power cord comes in the same color as the frame, in my case, in white.
Once your frame is connected, you can add photos from your mobile camera roll.
Clearly, a lot of thinking has gone into this process to make it so easy and convenient.
Frame settings
The settings menu is as straight forward as it gets.
You can add (family) members who are permitted to send images to your frame and to view all images on the frame.
Timing allows you to specify the image duration between 15 seconds and 4 hours. My recommendation is 2 or 5 minutes but that is up to your personal taste.
The frame will automatically turn dark once the brightness in the room goes under a certain threshold, or you set a schedule.
The remote control function allows you to see which image is currently being shown and you can move it forwards or backwards.
Unfortunately, you cannot change the transition style. It is fixed as a sliding transition. Maybe in a future update, the Aura engineers will take a look at transition options that Nixplay offers and add a few more, especially crossfading because this kind of transition removes any disturbance by a sudden change of brightness.
What you can also not change is the sequential playback. I would definitely prefer a random mode.
The frame
The Aura frame is a very elegant frame. It definitely feels high value.
The display has an aspect ratio of 16:10 which is great because this means that there is only little cropping of images taken with your phone camera. For us passionate photographers, this is a very important feature.
The screen is 10 inches and has a resolution of 1920 x 1200 px which is top-notch for this size. The display quality is nothing but outstanding. Thankfully, the Aura Carver is not a touchscreen and therefore you won't see annoying fingerprints on the display.
You can connect the frame to Amazon Alexa or Google Assistant, but I didn't try that out myself. The value-add of voice control of a small tabletop picture frame is probably limited, but it's nice to know that it works if you need it in case of a physical handicap, for example.
The touch bar
One feature that I haven't seen anywhere else is the touch bar.
On top of the frame there is a small smooth strip. It has the same color as the frame and is hardly visible but you feel it right away.
With the touch bar, you can move on to the next image, move back, display available information about an image like the location and the date, and by whom it was added.
By repeatedly tapping on the touch bar, you can also make a lot of hearts appear. This information is shared with the person who uploaded the image which is a nice way of giving feedback.
You can also delete a photo directly with the touch bar which shows a nice animation.
Using the touch bar may be a bit confusing at times, despite its limited functionality, but with a bit of trial and error, it can be a useful feature.
The touch bar works in both portrait and landscape orientation.
Conclusion
The Aura Carver picture frame is not cheap but high-value. You will immediately see that Aura has placed high importance on the frame design and value perception and that makes a lot of sense to differentiate is from the many "plastic frames" on the market.
I especially like the Gift Setup feature, the simple app user interface, and the integration of other family members.
As I said before, there is some room for improvement in the area of image transitions and playback sequence options but this may be addressed in a future software update.
Overall, this is a great frame, and not just for wedding photos. It's available in charcoal or white chalk.
Now all you have to do is to put it on your wedding list.
(Pho­tos: Wolfgang Männel)