Aura claims to have the world's smartest digital picture frame. So I sent them an email and asked for a review unit to take a closer look. It arrived a few days later on my doorsteps, and I took it for a test drive. Here is what I found.
My tests are unbi­ased. There are no finan­cial or mate­r­i­al dona­tions to be dis­closed. Aura has supplied me with a review unit for this test.
Aura
Aura is a relatively young San Francisco/New York-based company that started selling digital picture frame in 2016. Its focus is on building superior quality frames combined with smart software. As it says on their website, the founders are "two early Twitter scientists," so the focus on software seems to be in the company's DNA.
They currently (September 2020) offer four different models, the Aura Mason, Carver, Sawyer, and Smith.
For this review, I received the Aura Mason frame, but the software is the same across all models, so you will get a good impression of how Aura frames work and what their particular features are.
Aura is currently only shipping in the US. They either sell direct or through selected retailers, like Amazon.
First impression
When you first look at the Aura box, you would think that Aura hired the product manager from Tiffany&Co.
It comes in a light blue box that looks absolutely stunning and very classy. It's a bit like Apple Watch packaging for digital picture frames.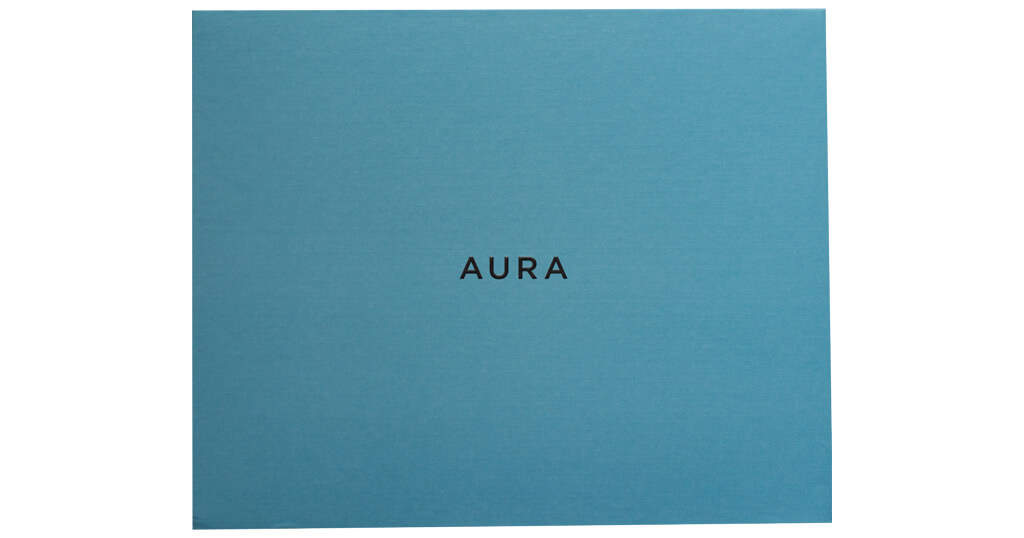 Gift Setup
The packaging has a clever feature. On the outside of the box, there is a removable paper strip that hides a QR code called "Gift Setup." This means that you can prepare the frame and load it with your own images before you give it as a present. This is an amazing feature that I have not yet seen elsewhere.
Although setting up a WiFi digital picture frame is easy, it still requires downloading the app to your mobile phone, creating an account with the manufacturer, and uploading your images to the cloud account. Not to mention the necessary settings for the duration, and whatever you want to customize.
With Gift Setup, you can make this initial setup very easy and give your digital picture frame already containing your own great images – without opening the sealed box!
Just download the Aura app on your phone. When you launch the app, you can either setup a digital frame or as a gift.
Scan the QR code on the outer packaging which is located under the removable paper strip.
You can then add your first photo that will immediately be shown on the frame and even add the note which will be delivered when the receiving party will set up their frame.
Click on "Save Gift" and your present is being "wrapped". You can now invite other family members to share photos to this frame from anywhere.
In the next step, you can add more photos from your mobile camera roll. You can edit your note and the cover image at any time.
Clearly, a lot of thinking has gone into this process to make it so easy and convenient.
When your present is unwrapped under the Christmas tree (or whatever other special opportunities you choose), plugged in, and starts displaying familiar faces and even a personal greeting note, it makes a much stronger appearance than having your parents walk through the photo upload on the phone two weeks later.
Kudos to Aura. With some clever thinking they are able to make a lot of difference in important moments.
Setting up the frame for the first time
All you will find in the Aura box is the frame and the US power supply.
I assume that once Aura Frames will widen their distribution to outside the US, they will add international power plugs. But the power supply works with 110-240 Volts, so with a simple adapter, you can use it anywhere in the world.
When you first power up the frame, you will get this image.
Obviously, it would have been great to be greeted immediately by the cover photo and the personalized message but since the digital frame does not yet have a WiFi connection, this is impossible.
But all the lucky person who has just received the frame has to do is to download the Aura app to his or her mobile phone and enter his email, first name, and a password. I found the Aura app a bit picky when it comes to passwords, which despite all good intentions, has the potential to annoy some people.
In the next step, you choose "Set up digital frame". Activate Bluetooth and the app will show the same code as on the frame. Confirm and add the Wifi network by clicking "Connect Now".
When you finalize the setup, you will see the personal message from the sender. It would have been nice to see it on the frame display, but I suppose that would have taken too much software tweaking.
But in any case, your preloaded photos will show up immediately making the picture frame useful right away.
I wish there was an easier way to make the frame fully functional without any setting up of accounts, but the Aura way is already pretty good. And You don't even have to open the sealed packaging to make the preparations!
Frame settings
The settings menu is as straight forward as it gets.
You can add (family) members who are permitted to send images to your frame and to view all images on the frame.
Timing allows you to specify the image duration between 15 seconds and 4 hours. My recommendation is 2 or 5 minutes but that is up to your personal taste.
The frame will automatically turn dark once the brightness in the room goes under a certain threshold, or you set a schedule.
The remote control function allows you to see which image is currently being shown and you can move it forwards or backwards.
Unfortunately, you cannot change the transition style. It is fixed as a sliding transition. Maybe in a future update, the Aura engineers will take a look at transition options that Nixplay offers and add a few more, especially crossfading because this kind of transition removes any disturbance by a sudden change of brightness.
What you can also not change is the sequential playback. I would definitely prefer a random mode.
The frame
The Aura frame is a very elegant frame that doesn't even have a stand because the frame is so broad. There is absolutely no plastic feeling about this frame, it feels really nice.
The display has an aspect ratio of 4:3 which is great because this means that there is no cropping of images taken with your phone camera. For us passionate photographers, this is a very important feature.
The screen is 9 inches and has a resolution of 1600 x 1200 px which is top notch for this size.
You can connect the frame to Amazon Alexa or Google Assistant, but I didn't try that out myself. The value-add of voice control of a small tabletop picture frame is probably limited, but it's nice to know that it works if you need it in case of a physical handicap, for example.
The touch bar
One feature that I haven't seen anywhere else is the touch bar.
On top of the frame there is a small smooth strip. It has the same color as the frame and is hardly visible but you feel it right away.
With the touch bar, you can move on to the next image, move back, display available information about an image like the location and the date, and by whom it was added.
By repeatedly tapping on the touch bar, you can also make a lot of hearts appear. I guess this information is shared with the person who uploaded the image, but I am not quite sure. It is a very nice effect in any way!
The touch bar is available in both portrait and landscape orientation of the frame.
Conclusion
The Aura Mason picture frame is quite different from other frames that I have tested.
You will immediately see that Aura places high importance on the frame design and value perception and that makes a lot of sense to differentiate is from the plastic frames on the market.
I especially like the Gift Setup feature, the simple app user interface, and the integration of other family members. The touch bar is a nice gimmick but would probably not be number one on my list of important features.
There is some room for improvement in the area of image transitions and playback sequence options.
Overall, this is a high-end frame with a family friendly software ecosystem. It makes no doubt a great present for friends & family.
(Pho­tos: Wolfgang Männel)
Was this post helpful?
Let us know if you liked the post. That's the only way we can improve.