So you just received your Nix­play Seed and are now look­ing for a quick and easy tuto­r­i­al to set it up?
You have come to the right place.
In this arti­cle, I will explain how to set it up using your smart­phone.
If you want to use the web app on your lap­top or PC instead, please have a look here.
Watch the video
Feel­ing lazy? Then watch my video of this arti­cle. It's only four min­utes long and con­tains all you need to know (for Eng­lish sub­ti­tles click on "CC").
Still there? Here are all the steps in writ­ing.
Con­nect­ing to Wi-Fi and updat­ing
Con­nect your pic­ture frame to the pow­er sup­ply. It'll turn on and show this image.
Click the mid­dle but­ton of your remote con­trol, and your frame will start look­ing for avail­able wifi net­works. Pick yours using the arrow keys on the remote and con­firm with the mid­dle but­ton.
In these days, we are used to every­thing being a touch screen, but your Nix­play Seed frame is not one. Every­thing is done via remote con­trol.
Enter your pass­word with the arrow keys, and once you are done with it, hit con­nect.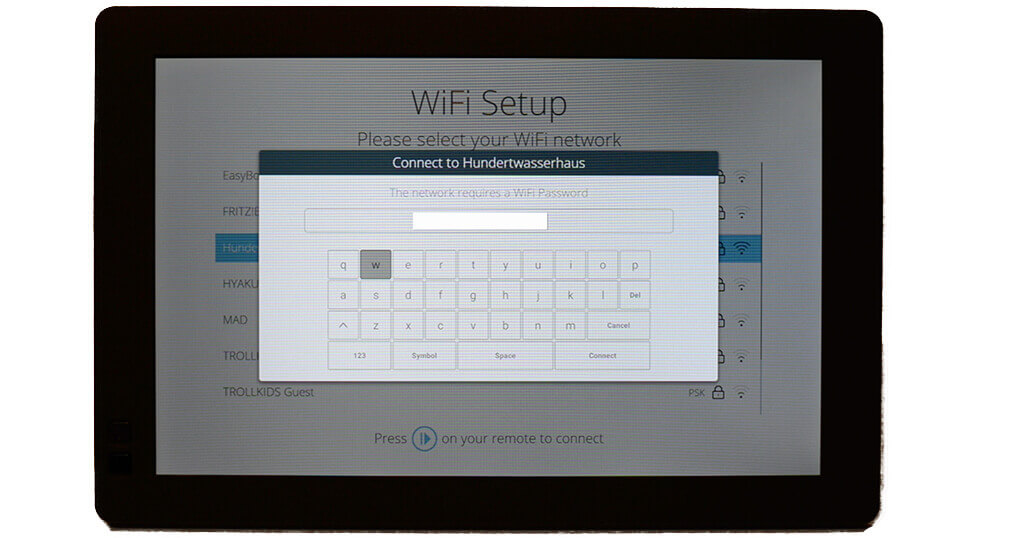 The frame will now con­nect to your local wifi, and start a series of soft­ware updates includ­ing one or more reboots. Just let it run its course. You may even be asked to choose your local wifi again, but the pass­word will still be stored.
A short pro­mo­tion­al video will then greet you, and final­ly, you will see the most impor­tant screen with a QR code and a ser­i­al num­ber for­mat­ted across four tabs.
Either take a pho­to of this screen or write it down. You will need it for the pair­ing of the frame.
Pair­ing the frame
Now down­load the Nix­play app on your smart­phone and cre­ate an account. I already cre­at­ed one, so I am going to log in straight away.
Now the first thing we are going to do is go to tap "Pair Frame". Enter the ser­i­al num­ber in the four tabs that you have seen on your pic­ture frame.
The frame is now con­nect­ing, and you will also see it on the frame itself.
Last, give your frame a name and a loca­tion if you like and check the time zone set­tings.
Upload­ing images and cre­at­ing a playlist
The Nix­play Seed frame does not store any images local­ly on an SD card but down­loads all images from the Cloud.
Let's click on "Add photo/video" and upload some pho­tos to our Nix­play account.
You can see an emp­ty playlist that has been cre­at­ed by default. We are going to "Add Pho­tos" and choose "Pho­to Library".
You can add cap­tions to your images here if you like.
Unlike in the Nix­play Web app on your lap­top or PC, you can­not change the order of your playlist in the mobile app. How­ev­er, you can delete images.
And now, we have your first playlist.
Frame and playlist set­tings
Click on set­tings to spec­i­fy your frame and play­back set­up.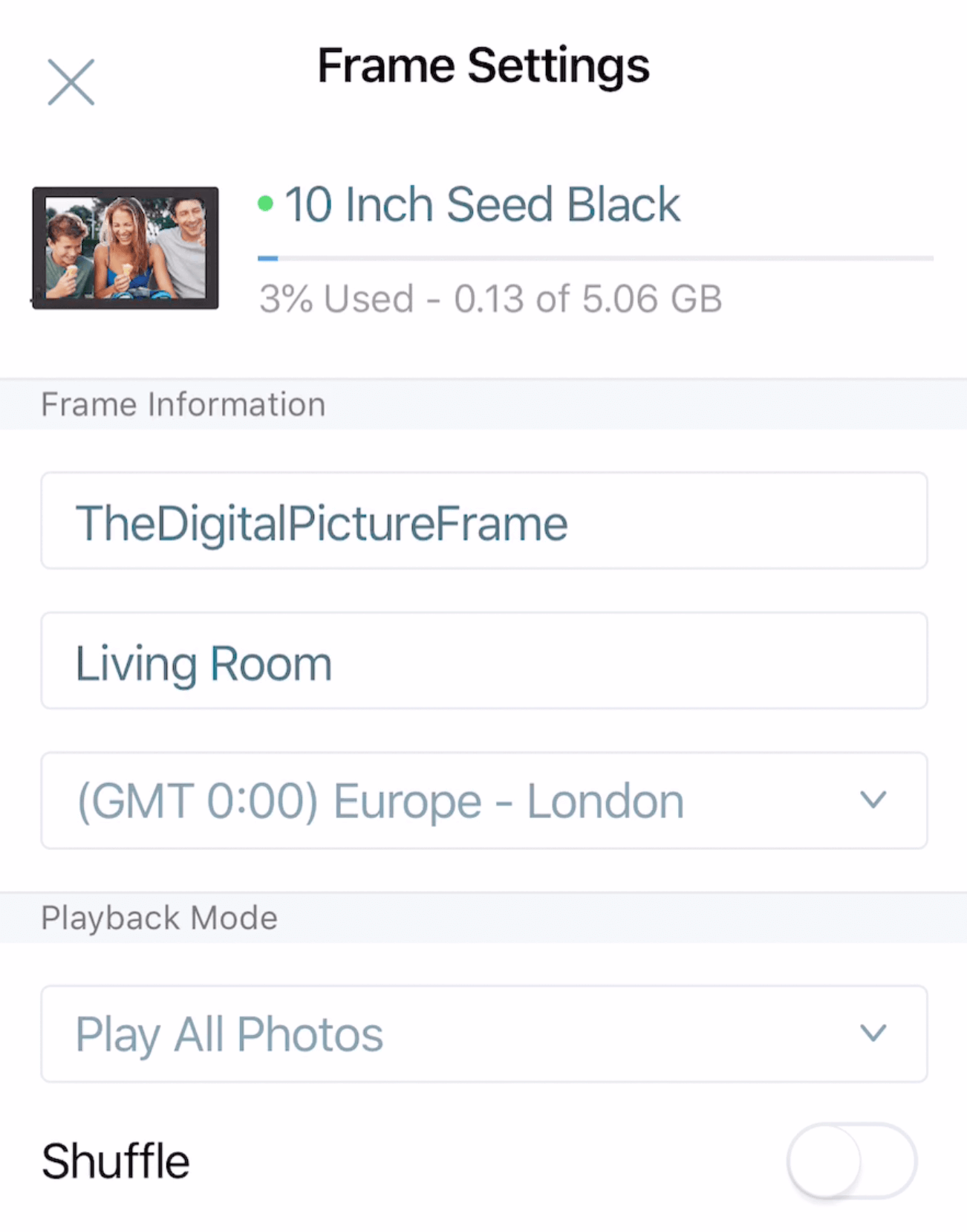 In Play­back mode, you can choose to play all pho­tos or just the lat­est ones. Shuf­fle mode is acti­vat­ing the ran­dom mode.
Then you have a whole lot of tran­si­tion types that you can choose from. You may want to set it to ran­dom to get start­ed and then lat­er be more spe­cif­ic.
Just below, you set the change fre­quen­cy between 5 sec­onds and one hour and dis­play the con­nec­tiv­i­ty sta­tus.
Sleep mode means that you define a time for the frame to wake up and go to sleep and below are the motion sen­sor set­tings where you can set the time the frame should stay on after detect­ing move­ment.
You can spec­i­fy what to do when the frame wakes up and acti­vate the clock when the screen is turned off.
In Dis­play Set­tings, you can spec­i­fy if you want to show the clock on the frame in the low­er right cor­ner, and you can show cap­tions that you have added to images.
Final­ly, you can adjust the vol­ume for video play­back and the bright­ness of the screen.
You can change these set­tings direct­ly on your frame by click­ing on the cog wheel, the low­er right but­ton, of your remote con­trol.
Tap­ping on the Friends but­ton will allow you to invite friends to send you images via email. You can spec­i­fy if their images are added to your playlists right away or if you want to review and add them man­u­al­ly lat­er.
The mobile app also allows you to sim­u­late the remote con­trol.
And that's all there is. Enjoy your Nix­play Seed frame.