So you just received your Nixplay Seed and are now looking for a quick and easy tutorial to set it up?
You have come to the right place.
In this article, I will explain how to set it up using your smartphone.
If you want to use the web app on your laptop or PC instead, please have a look here.
Watch the video
Feel­ing lazy? Then watch my video of this arti­cle. It's only four min­utes long and con­tains all you need to know (for English subtitles click on "CC").
Still there? Here are all the steps in writ­ing.
Connecting to WiFi and updating
Connect your picture frame to the power supply. It'll turn on and show this image.
Click the middle button of your remote control, and your frame will start looking for available wifi networks. Pick yours using the arrow keys on the remote and confirm with the middle button.
In these days, we are used to everything being a touch screen, but your Nixplay Seed frame is not one. Everything is done via remote control.
Enter your password with the arrow keys, and once you are done with it, hit connect.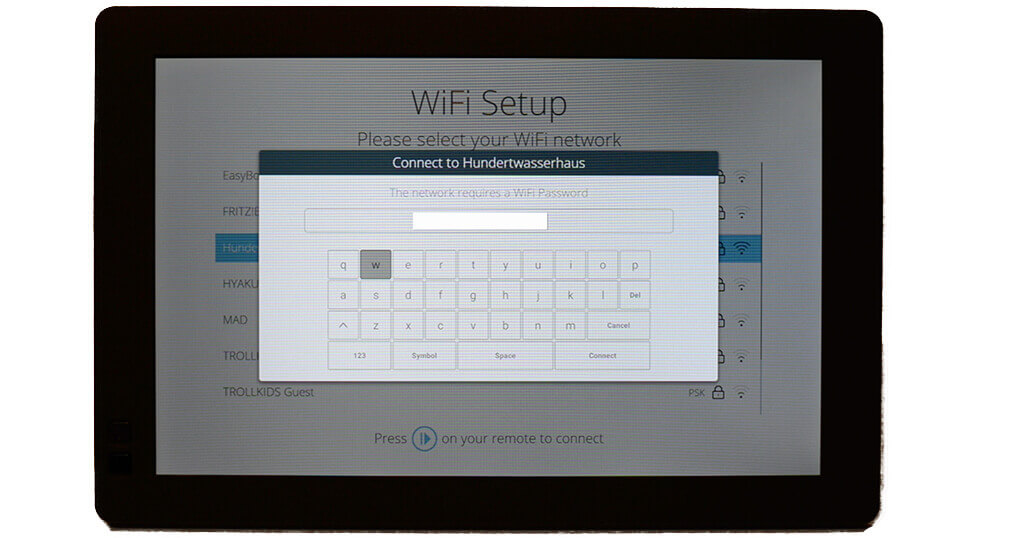 The frame will now connect to your local wifi, and start a series of software updates including one or more reboots. Just let it run its course. You may even be asked to choose your local wifi again, but the password will still be stored.
A short promotional video will then greet you, and finally, you will see the most important screen with a QR code and a serial number formatted across four tabs.
Either take a photo of this screen or write it down. You will need it for the pairing of the frame.
Pairing the frame
Now download the Nixplay app on your smartphone and create an account. I already created one, so I am going to log in straight away.
Now the first thing we are going to do is go to tap "Pair Frame". Enter the serial number in the four tabs that you have seen on your picture frame.
The frame is now connecting, and you will also see it on the frame itself.
Last, give your frame a name and a location if you like and check the time zone settings.
Uploading images and creating a playlist
The Nixplay Seed frame does not store any images locally on an SD card but downloads all images from the Cloud.
Let's click on "Add photo/video" and upload some photos to our Nixplay account.
You can see an empty playlist that has been created by default. We are going to "Add Photos" and choose "Photo Library".
You can add captions to your images here if you like.
Unlike in the Nixplay Web app on your laptop or PC, you cannot change the order of your playlist in the mobile app. However, you can delete images.
And now, we have your first playlist.
Frame and playlist settings
Click on settings to specify your frame and playback setup.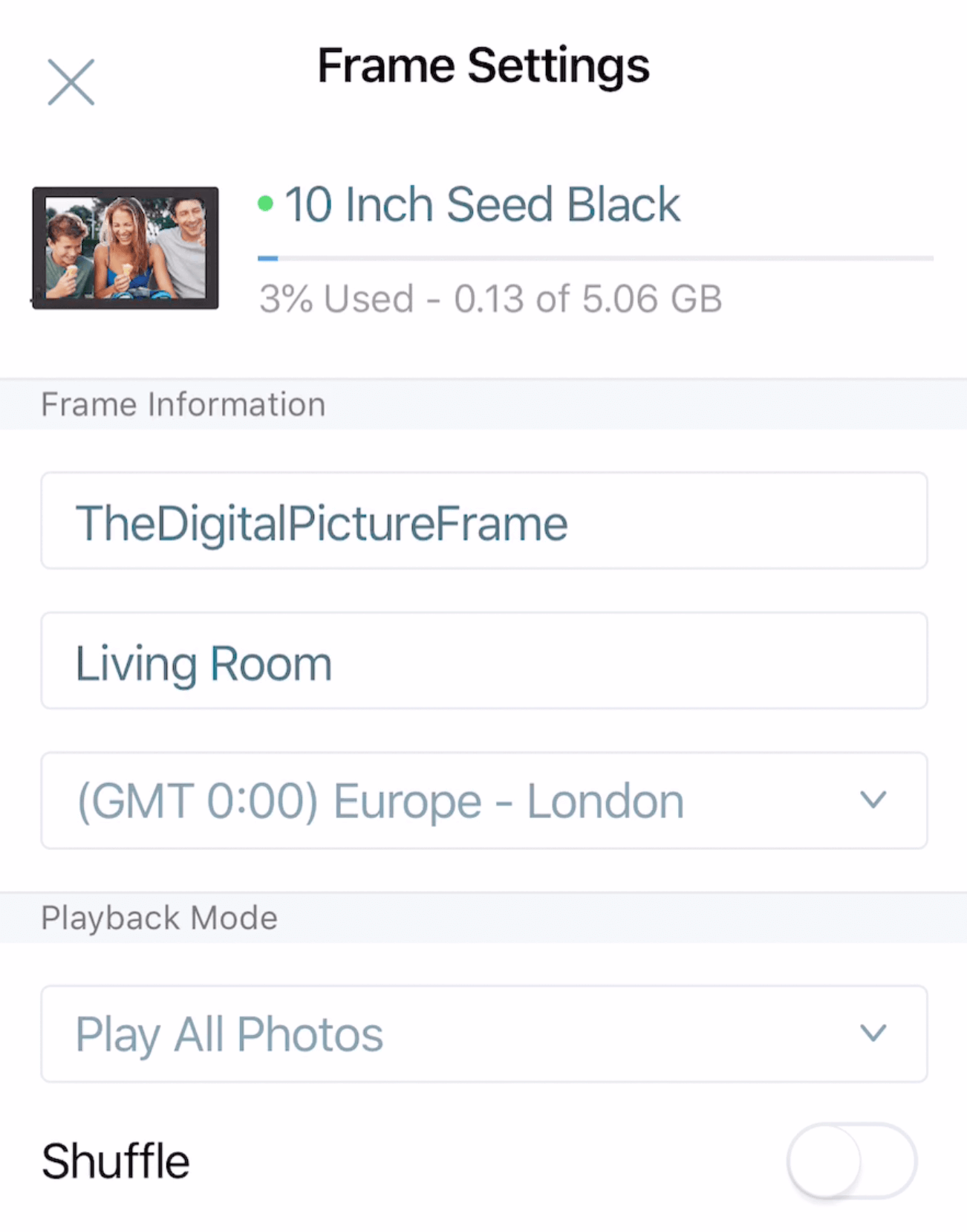 In Playback mode, you can choose to play all photos or just the latest ones. Shuffle mode is activating the random mode.
Then you have a whole lot of transition types that you can choose from. You may want to set it to random to get started and then later be more specific.
Just below, you set the change frequency between 5 seconds and one hour and display the connectivity status.
Sleep mode means that you define a time for the frame to wake up and go to sleep and below are the motion sensor settings where you can set the time the frame should stay on after detecting movement.
You can specify what to do when the frame wakes up and activate the clock when the screen is turned off.
In Display Settings, you can specify if you want to show the clock on the frame in the lower right corner, and you can show captions that you have added to images.
Finally, you can adjust the volume for video playback and the brightness of the screen.
You can change these settings directly on your frame by clicking on the cog wheel, the lower right button, of your remote control.
Tapping on the Friends button will allow you to invite friends to send you images via email. You can specify if their images are added to your playlists right away or if you want to review and add them manually later.
The mobile app also allows you to simulate the remote control.
Conclusion
And that's all there is. Enjoy your Nix­play Seed frame.